Registered User
Join Date: Apr 2015
Posts: 420
In the garage:
Reputation:
0
Location: Henderson
How to Import a vehicle from Canada
---
With the Canadian dollar price dropping sharply, many might find it appealing to purchase their vehicle from across the border. That's what I ended up doing while I was in pursuit of a clean Estoril blue E46 M3. I've been looking quite sometime here in the USA, and after spending a fortune in PPIs, I came across only one vehicle worthy of purchase, but it was a little above my budget.
I got tired of looking in the US, so I started searching at Canada, and found me a stock, well maintained, clean and single owner 2003 Individual Estoril Blue M3 with 97 K on it which ended up costing me 12000 USD (including state taxes and import duties) . Considering the prices these estorils have been going for lately here , I'd call that a bargain.
Anyway, This is what you'll need to do :
Decide if this is right for you
Purchasing a vehicle from a foreign country requires patience, and mobility. If your in a hurry, then just shop locally. If you don't have a passport, then get one early on as issuing passports takes up to 6 weeks for standard service, 3 weeks for expedites service. If you have a foreign passport like my case, then you'll need to also apply to a Canadian Visa at the nearest Consulate.
My decision to buy from Canada wasn't just about saving money, but it was more about finding the car that I want, and I was determined to get a Coupe Estoril M3 (preferably manual) and not break my bank. Plus I love traveling, and I'd take an excuse to jump on a plain to other countries.


Shop
Start looking for a car in Canada, there are plenty of websites, like Ebay.ca, Kijiji.ca, autotrader.ca and Craigslist. I found my vehicle at Kijiji.com, and was extremely lucky to work with the seller at York Regional Automotive @ Toronto. It was a small mechanic's shop that sold some cars on the side, and they had one of their customers asking them to sell this M3. Mike (The owner or York Region Automotive, http://yorkregionautomotive.com/) answered all my questions ahead of time as I will demonstrate.

Make sure you shop for a vehicle that meets US DOT Safety and EPA emissions requirements! most Canadian vehicles do, but to be sure, ask BMW NA ahead of time.


Inspect
Once you've found the car, it's time to inspect:

Ask any lingering question via email or phone: Have the owner send you all the pictures you'd like if possible. In my case, Mike was super helpful, he volunteered to send me high def pictures of the road rash the vehicle's bumper and hood got. I asked him to check the color code and share it with me, asked him about the subframe, VANOS, if there are maintenance records ...etc. Mike told me flat out he doesn't know if the subframe is damaged, so he put it on the lift, checked it out told me he hadn't seen anything. Of course, that doesn't negate the need for a PPI, but again, I got lucky to work with a great guy ! . If the seller is not cooperative, or they are trying to substitute your need forevidence of the vehicle's status with their own word of honor, then move on.

Ask for Carfax, or pull your own: Normally, dealers would give you a copy of the Carfax. I pulled my own even though Mike shared the carfax report with me as I wanted to make sure I'm getting the latest info. I can't state how important it is that you pull the car history report and that you pull it before paying for PPI or other expensive procedures. I was once considering another M3, had it go through PPI first, and the results where not very positive, but the seller reduced the price, then I pulled the carfax which showed 3 accidents! I could have saved my self 150 + taxes!.

Call the Dealer: Call the dealer who originally sold the vehicle (you can find them on the carfax) and ask them if there are any outstanding recalls on the car, and if all previous safety recalls and service recalls were performed on this car, specifically the ones related to the subframe and the rod bearings. In my case, all service recalls and safety recalls were performed. Also, I asked them about one accident the vehicle appeared to have had back in 2004 and was repaired at the dealership per the history report, they told me that the front driver's side fender was damaged and replaced in a fender bender and that no other components were damaged.

Arrange for PPI: This is a MUST if you're buying any vehicle which will cost a fortune in maintenance. Though my vehicle's CARFAX showed one owner, and one accident , and regular maintenance records mostly at the dealership , I had to do a PPI. I used google to look for a reputable BMW indy shop. I specifically looked for a BMW indy shop because they would know the ins and outs of an E46 M3 and know what to look for. Make sure the shop isn't too far from your seller's location, ask the seller if they can take the car their for a PPI, and explain that you will pay the shop for the PPI directly. It's always nice to offer them some money in exchange for their time.

All the sellers I dealt with before volunteered to take their cars to the auto shops for PPIs. Who would say no to a free diagnostic after all?

Make sure the mechanic inspecting your car is looking for the known issues with these Cars : Subframe cracks, VANOS issues and SMG Issues if applicable.

I found a shop called Bimmex, called and arranged for a PPI. I decided to fly there and take it for a spin then a PPI myself, mainly because I had a good feeling about Mike, and frankly I used this as an excuse to travel to Toronto and check it out . But overall, if a seller refuses a PPI , or even worse, tries to sell you his word instead, just run....



Payment Arrangements

Deposit: If your vehicle's PPI comes back to your satisfaction, then offer the seller a deposit to hold the vehicle. Normally, you'd use an escrow account. Of course, that can be a big pain in the butt for people who have never used an escrow account before. I suggest the following instead: Ask them to send you an invoice with terms of sale describing the deposit as refundable or not and under which circumstances, pay via Credit Card, then ask the seller for the receipt. You can use Paypal for that transaction if needed. If anything goes wrong, the and seller tries to bite you, then you can file a dispute with your CC and get your money back. In my case, I offered Mike a deposit, but he was kind enough and said that my word is good enough since I was calling all the way from Vegas for the car. What an awesome guy !


Currency Exchange: At this point, you need to make a decision on how do you want to get your Canadian dollars, and how much do you need! Realize that if you're buying from a dealer then you'll end up paying Canadian Sales tax ! So know you HSTs (Harmonized Sales Tax) before hand. Mine was a hefty %13! But luckily that counted towards my Nevada Sales tax. Anyway, Just ask the dealer about the exact CAD amount they will need after taxes and documentation.

Back to Currency exchange. Whatever you do, don't do it through your US Bank as they will KILL you in the exchange rate. in my case I needed to come up with 13250 CAD. At the time the exchange rate was 1.30 CAD = 1 USD. Wells Fargo and Chase wanted to exchange my money at the rate of 1.18 , effectively taking 1036 CAD (or $800) from me as a commission, which was insane ! Travelers checks and Travelex wasn't that much better. The better option was actually Canadian banks and Exchange rate offices at Ontario who where willing buy my USD for 1.28-1.29 ! so I carried cash with me into Canada! Yes I realize that is not the safest thing to do, but I was going to Canada, and not some crime plagued country. So weigh your risks and make a responsible decision.

If you do end up carrying cash or travelers checks, then make sure you declare any amount in excess of 10,000 CAD at the Canadian port of entry. I had to fill a declaration form at the Ambassador Bridge (Detroit/Windsor) Canadian Customs station. If you don't do that and get caught, then you might lose all you money or at least pay a hefty fine.



Travel and Purchase

Before you travel: While figuring out your payment, make sure you have a valid US Passport. If you do not have a US Passport apply for one. If you don't qualify for one, then make sure you have your travel document with you, and check if you need a visa to enter Canada. Here you go http://www.cic.gc.ca/english/visit/visas.asp. Also, shop for a good exchange rate at Canada so that you don't end up wasting time trying to find the best rate while you are there. Call the exchange rate office a day before to lock in a good rate.

Book your flight: if traveling to directly to Canada is way more expensive than a domestic flight, then consider flying to a border US city then driving into Canada if possible (or drive straight to Canada if you're at a US city near Canadian borders). Just remember, if you rent a car from the US driving to Canada, then you need to clearly state so when renting the vehicle in order for you to be provided with appropriate insurance documentation applicable in Canada. Your own insurance is more likely than not to NOT cover your liability in Canada. I had an AMEX that provided comprehensive coverage , so I purchase liability coverage from the rental company , and rejected comp after I verified with AMEX that they would cover me in Canada.

When crossing the border: Make sure you declare to the Canadian Customs officer that you are carrying over 10,000 in Cash (that includes travelers checks!).

Take it for a Spin: At this point, you need to realize that you are already invested in purchasing the car. Try not to sub-calculate that cost while driving the car. Think of it as a gamble, if you notice that the car is NOT what you expected, then don't be afraid to cut your loses. Nothing sucks more than being stuck with a car that you invested so much to love, yet you ended up to hate.

Exchange Currency: If all is good, then go to a bank or exchange office, and exchange your USD for CAD if you decided to carry cash or travelers check. I recommend you get a draft or money order from the Canadian bank to pay the seller. Never pay in Cash!

Buy the car: At the time of the purchase, you'll need to make sure you get the following

Bill Of Sale
Canadian Registration / Title : Or make sure it's mailed to your address.
Receipt
And , of course. Keys.


- I ended up leaving a copy of the keys with Mike while I arranged for shipping. He was kind enough to give 14 days to arrange for shipping while the car took space in his little parking area.

Importing Arrangements

- Shipping: You obviously don't have to ship your car, you can drive it across the border. But to do that, the vehicle must be registered and insured in Canada first. In Ontario, you can't register a vehicle if you're not a resident of the state. So I had to ship the vehicle. I personally got the best rate from US Canada Auto Transport (www.uscanadaautotransport.com) Selwyn answered all of my questions, and the vehicle got to me ahead of schedule. If you decide to ship , make sure you choose a company that can assist you with Customs processing. Selwyn's customs broker charged near nothing to clear my vehicle through the border.

- Customs: To bring a vehicle into the USA, you'll need to:
1. Manufacturer's letter: If your car was not originally made for the US market, then you'll need a letter from BMW NA stating your vehicle's VIN and indicating that it is FMVSS and EPA compliant.

2. DOT form HS-7 : This form basically indicates whether the vehicle ins compliant with DOT safety regulations or not. If the vehicle was not originally made for the US Market, then you'll need to get a letter from BMW NA with your vehicle's VIN stating that the care is compliant with US
FMVSS. Call them and ask for the letter, they might or might not charge you . I didn't need this because I was lucky enough that my vehicle was made for the US market and first sold in CA before the previous owner moved to Canada 3 years ago.
3. EPA Form 3520-1: Just like the DOT form, only its related to meeting US Emission standards. Again, if your car was made for Canadian market, then most likely it meets US emissions standards. Get a letter from BMW NA stating so and mentioning your vehicle's VIN.
4. Pay duties: For vehicles not made in North America, the duties are %2.5 of the sales price.


Registration & Titling
- Congratulations! You brought your baby home! Now the real pain in the *** begins ! The DMV!!!!! Before you run to the DMV, you want to make sure your vehicle's odometer is converted to miles, otherwise your carfax might reflect inconsistent mileage reporting. Luckily, BMW's made for the US and Canada support both Metric and English systems. You'll need to either take it to the dealer any donate $380, or do what I did, get PA Soft's BMW Scanner, and program it yourself! it took me more time to setup the application than to actually convert the odometer reading to miles.

Below is the list of items Nevada's PITA DMV asked for :

Canadian Registration (Also the serves as title)
Bill of Sale.
Statement of Facts (Form VP-22): This form was required by Nevada. I had to ask the seller to sign this form attesting to vehicle VIN and mileage facts. The state required the original signature of both parties.
Lien Search from Ontario's Government : You can get that online. Each province has it's own online lien search service. Just request that a notarized copy is mailed to you.
VIN Verification (if applicable): In Nevada, a VIN verification is required before registering a car.
Smog Test (otherwise known as emission test in other states).
Tax Receipt: I needed to go to the Nevada Tax department and show them that I had already paid non refundable sales tax in Canada, so they gave me full credit for that and I didn't have to pay sales tax again at the DMV.
CBP Form 7501: This is basically the Customs and Border Protection agencies entry summary form. It will provide proof that your vehicle was legally admitted to the US and that it is in compliance with DOT and EPA regulations. I needed this form at the Tax department to show the price of the vehicle in USD. This form will be mailed to you 3-4 weeks after your car enters the country.
Proof of Insurance: At least here in Nevada, you must provide proof of insurance at the time of the registration if the vehicle.


Now you have successfully registered your imported car, reward yourself with a big pat on the back , or buy your favorite sugary , high carb or high fat meal knowing that your burned enough fat, time and money trying to get this car here than what you would have burned running on a treadmill for 6 hours.


Initial Maintenance & Enjoy !
The Maintenance part should't wait until you register the car. When I got my car, I did all recommended maintenance the PPI suggested + refreshed all fluids . In my case, the PPI suggested I replace the brakes, driving cabin air filter, and one of the rear right spring needed to be replaced. I also lifted the car, inspected it myself, and found out a few things the PPI didn't catch , like worn out drive belts and one of the tires had a little crack.

After replacing the tires, belts, filters, oil...etc, I took the car for a spin, and discovered something : I hate SMG II! but that's a topic for another thread!


Here is my new baby! Ended up costing me $12615 which includes sales tax, travel and customs expenses ! Plus I got an additional set of 4 19" polished aluminum alloy BMW double spoke wheels style 167 M worth $1800 used. Not bad for a single owner, fully loaded, stock and well maintained beast Individual Estoril @ 97K miles.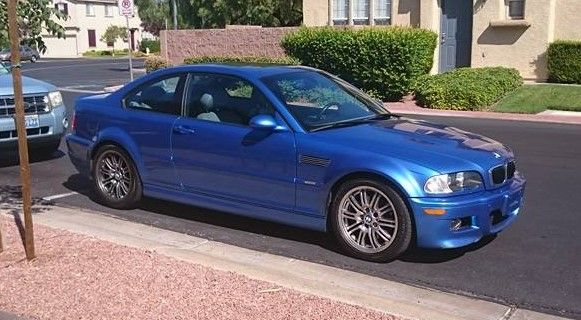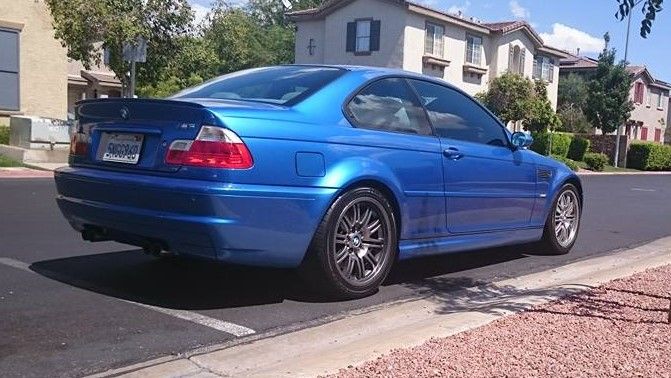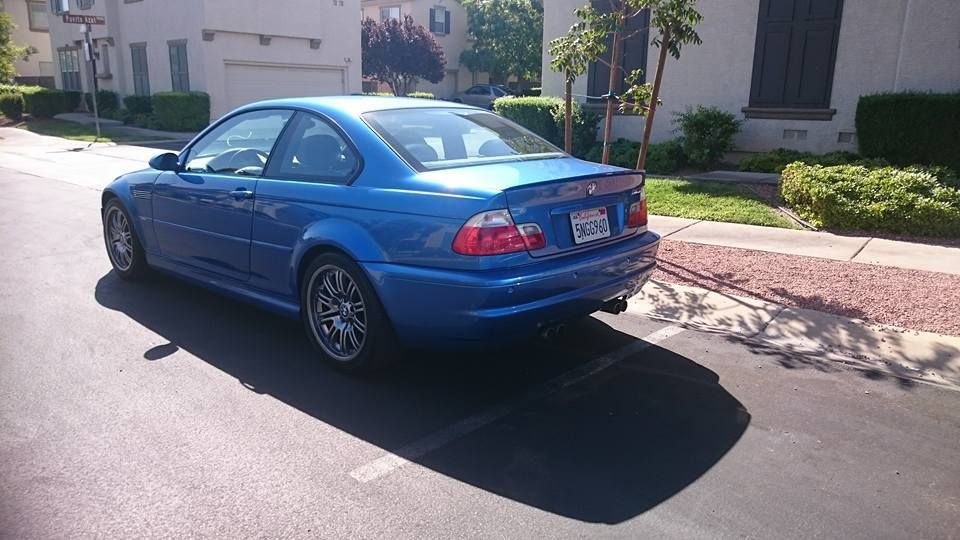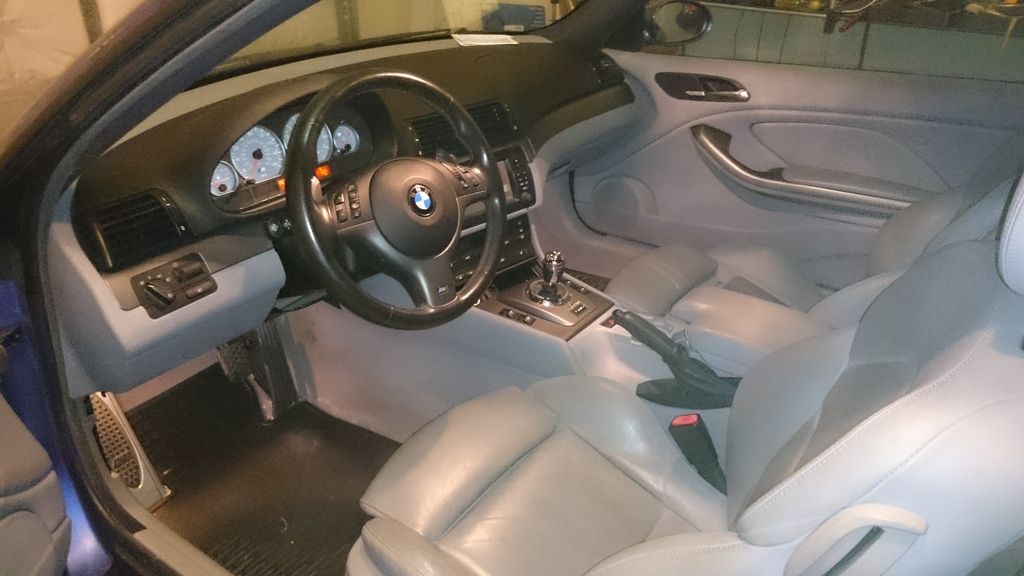 ---
Last edited by TheCoder; Fri, Oct-16-2015 at

11:29:37 AM

. Reason: alignment