Gents, one of the questions I'm asked more than any other question is "what coilovers are best for my BMW XYZ" and honestly it's a little subjective... well to point some brands are rubbish and some are great but what is best for you really depends on how you're going to use the car. To help make picking the right coilover for your car a little easier I had my writer put together a little info. Hopefully yall enjoy.
-James
_________________________________
There is a large amount of information online about which coilovers are ideal to improve your BMW's handling. However, we have encountered several misconceptions surrounding which coilovers are 'best.' Through years of experience, we have perfected our suspension for both street and track. We would like to provide a technical rundown of the coilovers we have found to be optimal for your BMW. We will address the three main fallacies tuners believe: that 'expensive means best,' 'stiff equals fast,' and 'lower equals faster.' Let's examine exactly how your suspension functions and show you why these are the coilovers we recommend for your driving style.
What do coilovers do?
The real purpose of upgrading your suspension is to maximize your tire's contact with the road. If your suspension is too soft, weight transitions in cornering reduce your tire's contact with the road. This reduces your traction and performance. Inversely, if your suspension is too stiff for the tires, you can cause the car to slide. This is because the tire pressure, size, and compound were not capable of withstanding the stiffer suspension. To properly dial in your suspension for the track, adjustability is key. For the street, look for something designed with fixed damping and spring rates that match factory specifications.
The Anatomy of Coilovers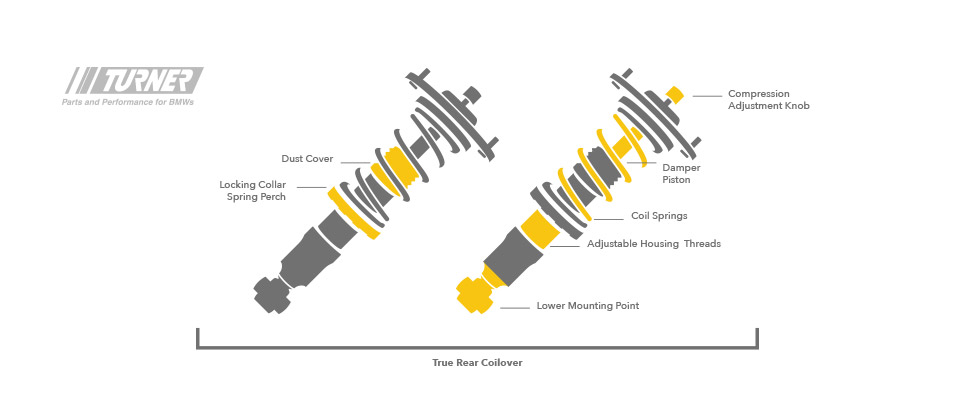 Spring Rate Explained
The spring rate is the amount of energy in terms of weight it takes to compress the spring by 1 inch. A higher spring rate is stiffer and takes more energy to compress. A lower spring rate allows for lots of wheel travel, but will not take much to fully compress, relatively speaking. Spring rates should be softer on road cars and stiffer on track cars. The reason is simple: the camber angle of the suspension directly relates to the necessary spring rate. You will want stiffer spring rates compared to factory springs for lowered vehicles with more negative camber, but you will not want to over-stress your tires with springs that are too stiff. Spring rates for the track need to keep the lowered suspension from traveling too far upwards, resist change in geometry through corners, and need to be matched with the tire compound and weight of the vehicle for optimal results.
Damper Compression Explained
The damper compression is the travel of the piston as the shock/strut is 'squeezed' closed. Fluid channels allow for the transfer of the internal fluid to be regulated at a certain speed and force that determines the shock rate as it is compressed. The stiffer the compression setting, the more difficult it is to compress the damper. This is important in performance vehicles, especially those that see track time. The damper will not allow the suspension to compress too quickly and will keep the tires on the pavement. On road cars, because of uneven surfaces, a softer damper setting will improve ride comfort and will allow the suspension to travel enough that the bumps are absorbed, while still being stiff enough to prevent excessive weight transfer.
Importance of Rebound
The rebound is how quickly the damper decompresses and returns to its resting position. The faster the shock can rebound, the more time it will keep tires in contact with the ground. On road cars, this becomes incredibly uncomfortable as your rebound speed increases, and can hurt performance without proper tires.
Three Main Fallacies
Stiffer Doesn't Equal Fast
You will want to choose your suspension based on what kind of tire compound you will be using. Street tires will not be able to handle an extremely stiff suspension and R compound tires or Race tires perform poorly with soft suspension. The stiffness of your suspension needs to directly correlate with where you are driving, which tires you are using, and how low your ride height is set. While many believe the ride quality is from your springs, the damping force of your struts and shocks actually determines ride comfort. The ability to control body roll for racing and to account for shorter suspension travel with high spring rates is important in race cars, but not necessary in road-going vehicles.
For example, if you are taking your car to the "Tail of the Dragon," your tire compound choice will heavily affect how stiff you will want your suspension. The weight transfer around corners needs to be minimized by stiffer suspension, but still needs to have enough give to maintain contact with the road over changing surface conditions like potholes. Figuring out exactly how to balance the damping force is something you will need to do by feel. It will ideally need to prevent heavy weight transfers under braking, acceleration, and hard cornering.
Lower Doesn't Equal Better
Lowering your vehicle does change the center of gravity, the roll center, and provides an aerodynamic advantage. Some street drivers do like the responsive feedback from that go-kart dynamic, but the importance of suspension travel and optimal function is something drivers should not ignore. You must account for your suspension travel and allow it to absorb high-speed and low-speed bumps. The springs function by absorbing the energy of a bump and using that energy to push the tire back down to its 'at rest' height. This is where spring rates and ride height meet. You will want to keep your suspension from traveling too far, but do not want your spring rates so stiff that there is no travel at all.
Having your suspension stiffness adjusted to the track conditions will keep your suspension arms parallel to the ground and allow you to maintain proper suspension geometry through corners. The suspension travel and position is what will give you the most traction and will force the tire into contact with the ground when the load shifts. Over lowering your vehicle actually reduces traction: some drivers compensate for the extreme ride height by increasing the stiffness of the spring rates. As we covered, this reduces the overall suspension performance outside of track conditions and aggressive tires.
Expensive Doesn't Equal Best
Setting up the perfect suspension for your BMW does not need to include the most exotic coilover set on the market. If you use your car as a daily driver, you will not see benefits in top-shelf suspension. For a street car, you should lower the vehicle for a precise ride height that looks the way you want, maintains the recommended spring rates for your suspension travel, and provides optimal compression/rebound. Plenty of our suggestions are lower cost and better suited to provide the best performance possible for your BMW.