Hello M3 Forum!
My name is Justin and I want to be your Rolloface brake dealer! I am a car enthusiast myself, not just a sales person. I am personally on many forums and attend a ton of car related events. I wrench on my own vehicles and love the car community. Anything you have questions about feel free to ask me. If I cannot find the answer right away, I will find it. Let me know how I can serve
YOU
the enthusiasts in the automotive community.
A little about Rolloface....This company was established in 2012 and has been creating quality brake components for all different types of vehicles. The parts used are of high quality and have been properly safety tested to ensure lasting reliability. This company offers what many Big Brake Companies do not. Customization. With the adddition of top notch components, you can also choose your finish for the Calipers and Rotor hats. With solid and multi colored custom Anodized finshes, you are able to add more creativity to your build. Why pay big bucks for a brake kit that you will have to get repainted / re-coated anyways? Get the performance and styling you want, right now.
Rolloface Front SR-C Series Big Brake Kit 356x32mm BMW
MSRP $3,850.00

Rolloface Front SE Series Big Brake Kit 356x32mm BMW
MSRP $3,150.00
Rolloface Front SS Series 6 Piston Big Brake Kit 356x32mm
MSRP $2,180.00
Rolloface Front SS Series 6 Piston Big Brake Kit 345x32mm BMW
MSRP $1,980.00
Rolloface Rear SE Series Big Brake Kit 356x32mm BMW
$3,050.00
Rolloface Rear SR-C Series Big Brake Kit 356x32mm
$3,750.00
Rolloface Rear SS Series 4 Piston Big Brake Kit 345x32mm
$1,880.00
Rolloface Rear SS Series 4 Piston Big Brake Kit 356x32mm
$2,080.00

Available Color Options (Single color is standard, Gradient and camo have extra costs)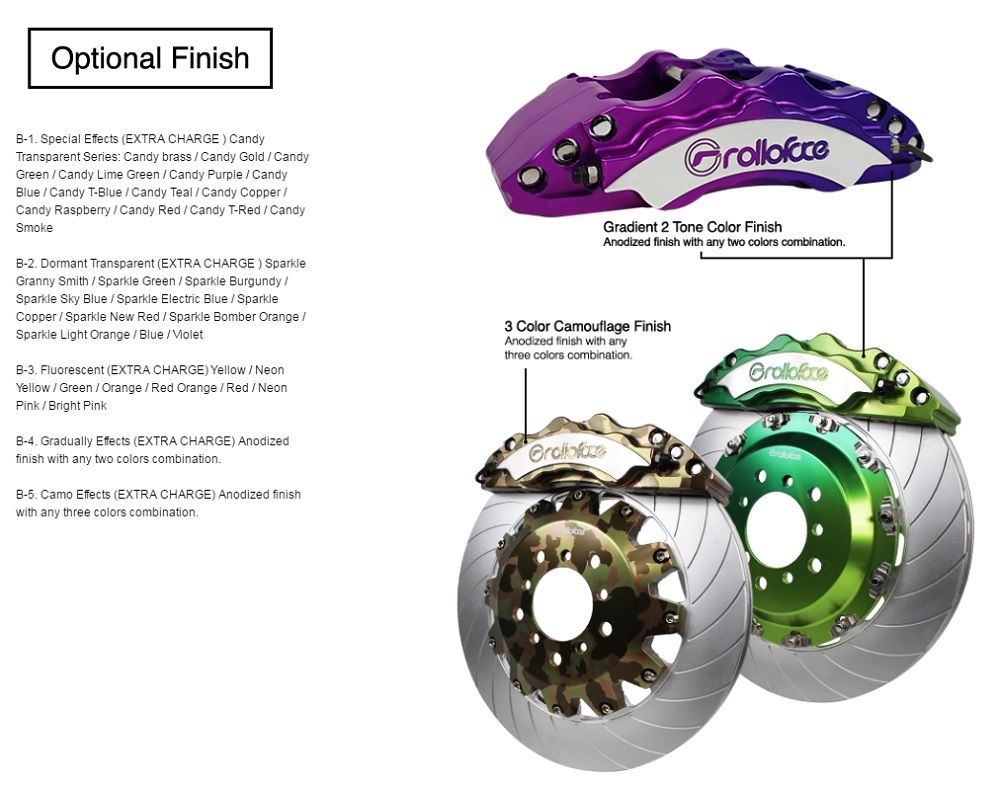 I can get almost any part on the planet. Not just brakes.... If you have an inqury or question do not hesitate to ask!!! I am here to serve you guys. We offer all the top brands, Rays, Work, Brembo, Agency Power, Akrapovic, Borla, HRE, BBS, plus MANY MANY more. If you do not see it on our site, send me a message and I will see if we can get it. Have a great day guys!
Ordering:
Phone
:
You can reach me directly by calling +1.480.966.3040 x225 to place your order over the phone.
Payment Methods
:
- Credit/Debit Cards (Visa, MasterCard, Discover, American Express)
- PayPal
- Bank Wire
- Bill Me Later
- AZ Orders will incur 7.8% sales tax
- All international orders (outside of US and Canada) require Bank Wire or PayPal
Shipping
:
We have very competitive worldwide shipping rates. Most orders leave via FedEx, however we do use UPS, DHL, and various freight companies. The most efficient shipping method takes precedence. Expedited shipping is available by request.
Hours of Operation
: We do not observe Daylight Savings Time in Arizona
March-October: M-F 9am-6pm PST
November-February: M-F 8am-5pm PST
We are closed for business Saturday and Sunday
Contact Information
:
Phone: 480.966.3040 x225
Email:
Justin@vividracing.com
Website:
www.vividracing.com
Please feel free to contact me via PM, Email, or Phone if you have any questions.