Shock dyno graphs illustrating the effect of nitrogen gas pressure. Why isn't gas pressure more talked-about??
Since Eric and I have previously shared shock dynos in this thread, I wanted to add a few more here. Although they're not specific to the E46 M3, the concept (especially the level of nitrogen charge pressure) applies to our BMWs and relates to observations people have made about ride quality and handling behaviors.
I've come to realize how critically important it is to measure and understand the effect of nitrogen gas pressure on a damper's real-world behavior. In this post I'll be more brief and link to two graphs showing damper force vs. velocity with a short discussion. In a subsequent post, I'll go into more detail about why we need nitrogen pressure inside the damper, and what happens if it's too high. In short, you need high-enough nitrogen pressure inside your damper to prevent any dissolved air from 'boiling' and 'foaming' (which reduces the damper's effectiveness) but also you need low-enough nitrogen pressure so you don't 'lock' the damper and prevent the damper from opening!
The graphs below were provided to me by a customer using Bilstein PSS10 on his F80 328 M Sport. He had someone near him perform dyno tests and he asked me to analyze the results and make suggestions on what damper settings and spring rates to use, etc. The first graph has the gas force subtracted, as is the common practice. The second includes the effect of the ~80 lb gas force, which raises the compression force and reduces the rebound force. This is an across-the-board change in the damper's real-world behavior. I've kept the scales the same for both graph so it's apple to apples comparison.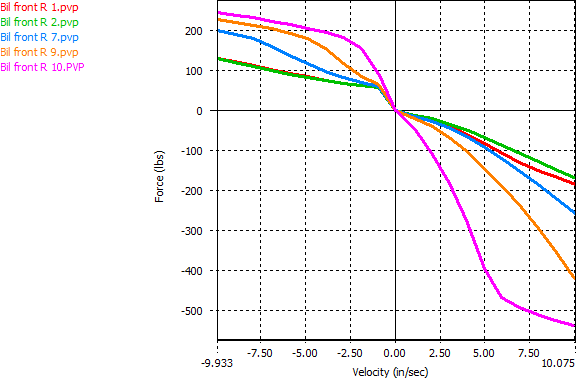 Same damper setting as above, but now gas force NOT subtracted (actual real-world behavior):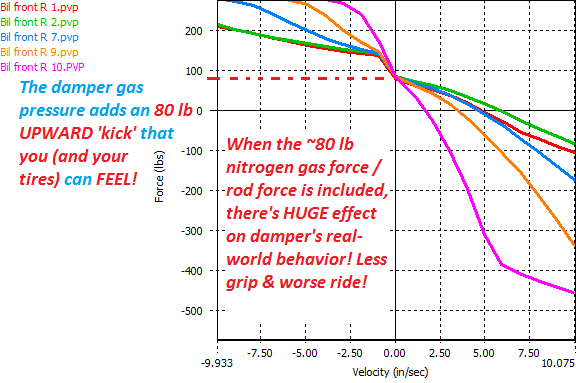 High nitrogen pressure and the resulting high gas force has an IMMEDIATE and CONTINUOUS impact on how the suspension tracks the ground. The gas force causes jerk, which is a sudden change in the acceleration of the vehicle. Jerk reduces grip as well as ride quality (grip and ride quality are really synonymous).
Keep in mind that gas pressure of 40 lb or more on our front strut suspensions will feel very stiff because of the high ~1:1 motion ratio of forces from the strut conducted to the wheel (and vice versa).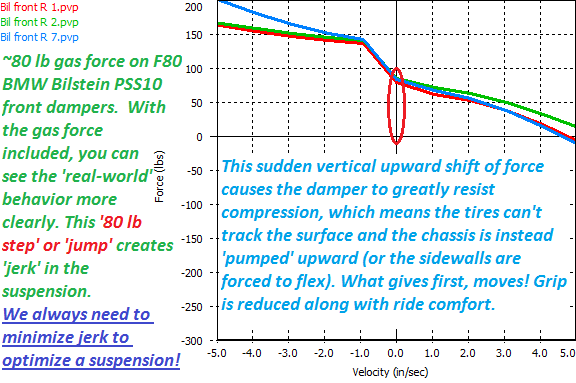 Bottom-line, if you find a monotube uncomfortable, high gas pressure and the resulting high gas force / rod force will often be the primary (hidden) cause. Make sure to find out the gas pressure in your front AND rear dampers, and notice if it's too high... You can use the 'bathroom scale' test as EricSMG did to get a sense of gas force!