So after looking at these headers for 1+ yrs, I finally made the plunge and the took the risk on these since there seems to be very little info out there. I've wanted to try full catless so this is two mods in one for me.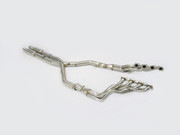 Got these for ~$1k on ebay. Should be here Tuesday - Thursday next week (18-20)
ebay link:
https://www.ebay.com/itm/232627578439
Currently I have test pipes, ms intake, bpm stage 2 tune, cnt exhaust.
I'll be installing these myself on my lift.
I'll document the process.
Notes on the install are on my blog, there were major issues with the length @[pbonsalb](contact:111897) & @[SAMM3Y](contact:373951) called it, the end of the end pipes were too long on one side and required cutting, pictures in part 2 link below:
Update #3
Before Dyno & Video posted, see post #61
https://www.m3post.com/forums/showpo...8&postcount=61
Update #4
After Dyno & Video posted, see post #73
https://www.m3post.com/forums/showpo...3&postcount=73
Update #2 Headers have arrived.
Quality seems pretty good, header flanges look good against a straight edge no warpage. The parts of the mid section that is 3" do seem pretty big in person.
Final Update:
Conclusion
, Becker Performance Headers made +15whp / +8wtq over test pipes.