Vivid Racing Presents: KW December Suspension Sale
MSRP $1350 +. PM, call, or email for M3 Forum Exclusive Pricing! We will offer out lowest pricing of the year!

Justin@vividracing.com | +1.480.966.3040 x225 | www.vividracing.com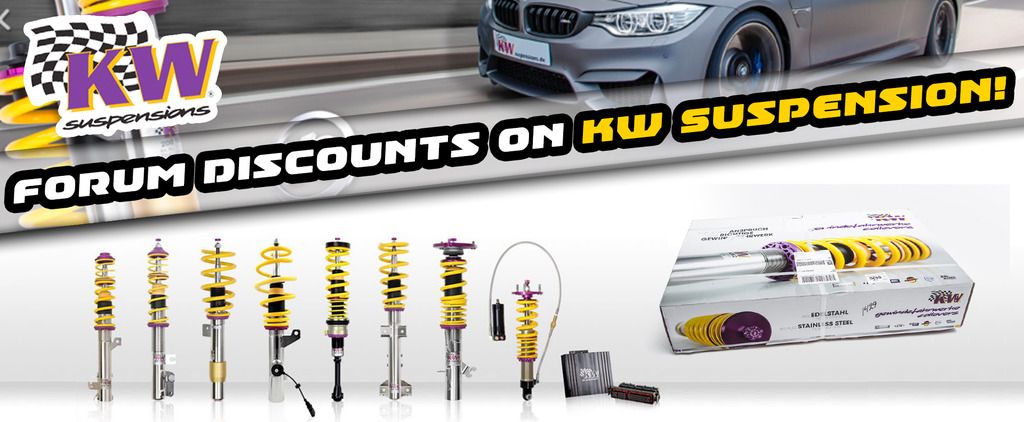 Product Information
:
KW Makes some of the best aftermarket suspension components for your BMW. With several models available, there is a set that will match your driving whether you are on the street or tearing down the track. Vivid Racing is a premium dealer for KW and can offer some great deals and incentives for your M3. Right now we are offering a minimum of 10% off on kits for M3 vehicles. Please PM me for best pricing for each application.
KW H.A.S Kit MSRP $850
ndividual height adjustability of the original suspension kit
OE suspension system also with electronic damper control stays active
Improved optic and vehicle dynamics
Optimal performance
Better steering behavior
KW V3 - MSRP $2,949.99 $3,299.99 W/ Cancellation kit
KW V3 Features:
- Independently adjustable damping technology - rebound and compression damping
- "inox-line" stainless steel technology
- Individual height adjustment
- German TUV-tested adjustment parameters
- High-quality components for long life
- Comprehensive documentation for ease of use
- Infinitely adjustable rebound damping
- 14- level adjustable compression damping
- Unique, independently functioning damping power adjustment

KW ClubSport KW 2-Way Clubsport Coilovers with Top Mounts $4,199.99+$
Height adjustable coil-overs
Performance setup for the racetrack
Independently adjustable, low speed, compression and rebound forces
High performance linear race springs
"inox-line" stainless steel damper bodies
Optional racing top mounts available for some applications
TÜV approval possible depending on specification
Ordering:
Phone
:
You can reach me directly by calling +1.480.966.3040 xEXT to place your order over the phone.
Payment Methods
:
- Credit/Debit Cards (Visa, MasterCard, Discover, American Express)
- PayPal
- Bank Wire
- Bill Me Later
- AZ Orders will incur 7.8% sales tax
- All international orders (outside of US and Canada) require Bank Wire or PayPal
Shipping
:
We have very competitive worldwide shipping rates. Most orders leave via FedEx, however we do use UPS, DHL, and various freight companies. The most efficient shipping method takes precedence. Expedited shipping is available by request.
Hours of Operation
: We do not observe Daylight Savings Time in Arizona
March-October: M-F 9am-6pm PST
November-February: M-F 8am-5pm PST
We are closed for business Saturday and Sunday
Contact Information
:
Phone: 480.966.3040 x225
Email:
Justin@vividracing.com
Website:
www.vividracing.com
Please feel free to contact me via PM, Email, or Phone if you have any questions.